Dianthaa over at Dianthaa Dabbles put together this excellent book tag in honor of International Womens' Day and tagged me in it earlier today! This year's theme is for IWD is "an equal world is an enabled world." Like Dia, I'll be sticking to highlighting women authors in this tag – however, there are no rules about which books you can or cannot pick.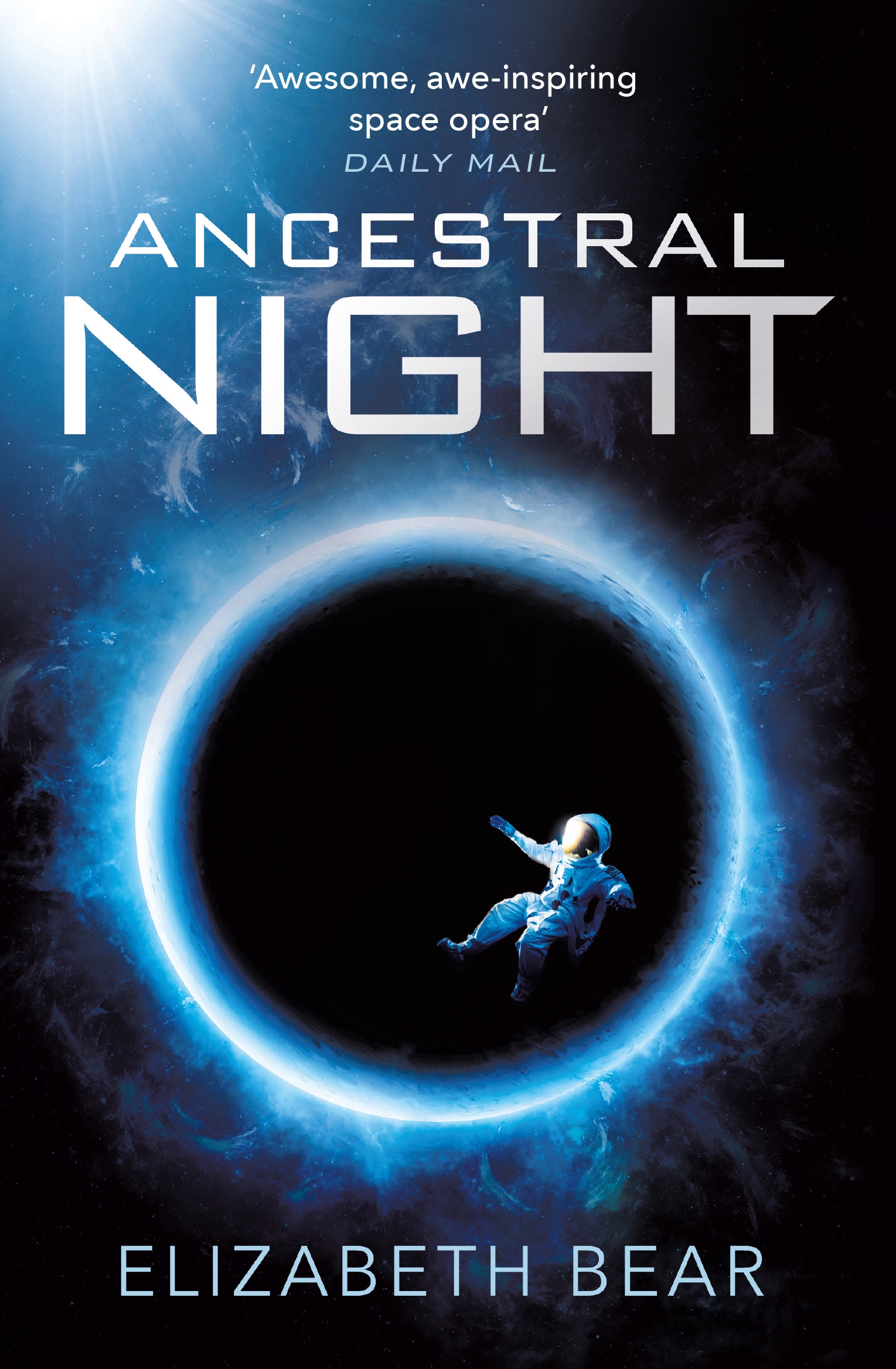 Ancestral Night by Elizabeth Bear
Ancestral Night is set in the far future, in a world where conception of gender and personhood (and even identity) has been altered and muddied by the ability to control and reform our own minds on the fly. The main character is a traumatized young engineer named Haimey, who is part of the crew on a space salvage rig with a shipmind AI called Singer, a rather unfairly good-looking pilot, and two absolutely delightful cats named Mephistopheles and Bushyasta.
Haimey's character arc is multi-layered due to a complex past. She grew up in a clade, a group of people who are programmed and controlled to share a purpose and maintain full emotional synchronicity.  While it's normal for humans to have a "fox" implanted to help them control their hormone levels and emotions, clades take this to an extreme. Haimey grew up without any conflict resolution skills, which made her ripe for abuse from bad faith actors who could manipulate that. Following a traumatic event in which exactly that occurred, she had to undergo a conditioning procedure that would allow her to function again as a normal human being. When some hard truths about her past are revealed, however, she finds that she's not and has never been the person she really thought she was. She looks inside only to see a stranger, an automaton, staring back
Among Others by Jo Walton
Among Others is a love letter to books and reading. It's about the sheer joy and validation in finding people who are like you. Jo Walton thrills in the connectedness of the human experience, finding magic within the threads that bind us all together. This is a cozy, warm tale about finding your home after tragedy. It is not the trip to Mordor; it is the Scouring of the Shire. The Chosen Ones have already won, and the world is saved… so now, it's time to live.
Jo Walton's writing is slow, meandering, and filled with love. It's important to understand before diving in that this is not a book about plot or action; it's a slow, reminiscent story about a young girl who is learning how to live in a normal life in the wake of tragedy. Mori's mother was out to abuse the magic of the fairies to create a world that revolved around her as queen. Mori and her twin sister, Mor, stopped her. The price was high: Mor was killed, and Mori was permanently maimed. She walks with a cane and a special shoe, both of which set her apart from the other girls her age. She must find her own way to live a new life, carving out a small, comfortable space just for her.
This Is How You Lose The Time War by Amal El-Mohtar & Max Gladstone
This book is poetic, romantic, strange, and violent – a whirlwind of emotion, fear, and firsts. Two soldiers fighting on opposite sides of a war up and down through the strands of time find that their greatest joy lies in each other, and thus begin a correspondence. They are two parallel lines that never meet despite having shaped one another through each of their interactions.
The two must work together even as they work against each other, avoiding discovery and slowly plotting a plan that will allow them to free themselves and be together.
Archivist Wasp by Nicole Kornher-Stace
Archivist Wasp is a strange blend of post-apocalyptic dystopia, ghost hunting, and metaphysical descent into the underworld. My response on completing it can be summarized as "very weird, very good." Although intriguing, philosophical YA is nothing new, Archivist Wasp takes this to a new level. Nicole Kornher-Stace crafts a world predicated not only on life and death, but also on the interconnectedness of life and our inability to define ourselves without using others as points of reference. None of us live in a vacuum, and the only way to grow and maintain our sense of self is through those we care for.
One of the things I liked best about Archivist Wasp was that it avoided romance altogether. It would have been very, very easy to turn this into a love triangle between Wasp, the ghost, and the ghost's friend. Instead, it's a wonderful example of aromantic asexual representation that's focused on friendship between men and women. It's a parable about how dividing ourselves from one another hurts us and makes us lesser than we were before, and about how coming together in friendship and interconnectedness makes us more ourselves. It's strange, and good, and odd, and oddly kind in the way it transforms two victims of brutal societies and origins into one unified team. Highly recommended to fans of the odd and offbeat.
The Calculating Stars by Mary Robinette Kowal
The Calculating Stars was simply brilliant. I loved it. It's taken me quite a while to write this review, in part because this was such a comfort read – one that I didn't want to follow up with a review that would make it feel more like "work." This books is filled with tragedy, heartbreak, unfairness, and discrimination; yet, for all that, it's also filled with hope, optimism, and accomplishment.
Kowal is very, very well-versed in the challenges women face in a world designed for men. She has done an astronomical amount of research for this book, and often has incredibly insightful Twitter threads about the difficulties women face in the modern era. In The Calculating Stars, however, the social climate has not advanced nearly so far. Elma has to fight constantly to be taken even slightly seriously, and although Nathaniel would do anything to help her… he, too, is in some has been taken in by his own upbringing. At the time, men weren't encouraged to examine the inequality that took place around them. Nathaniel often misses seeing the less obvious and subtle ways his wife is discriminated against, though he always stands up for her when he does see something.
Escaping Exodus by Nicky Drayden
I love weird, squishy, biological scifi, and I was impressed by how perfectly Escaping Exodus delivered on this front. When I originally read the premise on Goodreads – "a city-size starship carved up from the insides of a space-faring beast" – I knew I had to get my hands on this book. I'll admit that I came in feeling a hint of trepidation: what if the beast is relegated to being in the background? What if it's a normal spaceship that's only "alive" when it's plot convenient? Etc., etc. Fortunately, we were wading through ichor and entrails from the very first page. My worries were utterly baseless. Nicky Drayden embraced every bit of icky organic goodness right from the start.
The novel opens on one of our protagonists, Seske, cutting herself free from a cocoon filled with stasis fluid, and we only get squishier and more organic from there. Seske is the daughter of the Matris – the matriarch and leader of her culture and nation aboard the space beast. Her love interest and our other point of view character, Adala, comes from a long line of heart workers – literally, the families in charge of maintaining the beast's heart by cutting away sores, lesions, and pests from the beast's flesh to keep it healthy for its inhabitants. Adala has been trained from birth for this position, and her family's legacy is braided into her hair to show the generations that came before her. However, she's not guaranteed a position in the heart; the standards are both high and harsh, due to the great dangers involved in working in that particular organ. Every time the heart beats, the beast's vein flood with ichor… washing away anyone who did not properly count the time between beats and who didn't manage to cut a slit into the sides of the beast's innards to anchor themselves against the flow.
The Ten Thousand Doors of January by Alix E. Harrow
This book ripped me apart and wrote me back together again. Alix E. Harrow's debut novel is truly a work of art. I laughed, I cried, and I sat on the edge of my seat in suspense. January's voice comes through each and every word – first like a gentle rain when her life is filled with upper class stability, and later like a typhoon when she must break away from the chains and preconceived notions holding her back. She wants so badly to be free, but can't quite tear away without a push.
January Scaller is a young girl growing up in the early 1900s. She's leashed and tamed by a man who thinks of her as just another curio in his collection – but when her father goes missing, she's forced to confront both her abilities and her past. This is a coming of age novel, a novel about exploring both this world and others, and a novel about lost souls seeking one another out through the ten thousand Doors between worlds.
The romance is a beautiful one – it is slow, it is delicate, and has that brush of the ephemeral that only a young love can have. January has lived a life where everyone she loves is ripped away from her, and the reader, too, must fear a little that this one will not last.
The Only Harmless Great Thing by Brooke Bolander
The Only Harmless Great Thing is a story of cancer, a story of martyrdom, a story of stories. It's about love of community, love of family, and righteous anger at those who would destroy those two precious things. It's the story of a dying woman and the elephant who tried to stop humanity from killing one another for profit. It's beauty in prose and pain.
If you're unfamiliar with the story of the Radium Girls, I highly recommend at least glancing through the Wikipedia page prior to starting this novel. The Radium Girls worked for a company called the Radium Dial Company, where they labored in a factory painting watch dials with glowing paint containing – you guessed it – radium. The higher-ups of the company, well aware of the dangers of radium, used lead gloves and shields to avoid breathing in even trace amounts of the paint. The girls were told ingesting radium was good and healthy for them; in order to paint the fine lines needed for the watches, they were instructed to "point" the brushes using their lips. Believing it harmless, many used the radium to paint their faces, nails, etc. All of them died of cancer. Slowly. It starts with a loose tooth. A pain in the jaw. Loose joints and a generalized ache in their body. Soon, her face might begin to rot.
To Be Taught, If Fortunate by Becky Chambers
I have been a long-time fan of Becky Chambers. I've simply adored her books since the very first page of The Long Way to a Small, Angry Planet, and quite frankly I'd read literally anything she puts out – so you can imagine my excitement when I noticed I'd been approved for an ARC of her newest novella! To Be Taught, If Fortunate is a stand-alone which is unrelated to the Wayfarers universe. There's a lot to love in this small book, albeit a few things that didn't work as well for me. It's very different from her previous books, and it isn't quite the same chicken soup for the soul that we've all come to expect from her. It turns out I don't read a huge amount of flowers and chocolatey style books, so we'll have to assume that a dark, bittersweet chocolate also counts! This is probably around 85% cacao.
To Be Taught is a bittersweet story following four scientists on an exploratory space mission aboard a ship called the Merian. Their goal is to visit several Earth-like planets, where they will record the existence (or lack of existence) of life. They've traveled in a state of torpor, allowing their bodies to be preserved while they travel for years upon years while only aging for a small fraction of that time. Of course, this does add up, and the equivalent of aging for two years while asleep for decades takes its toll.
And now, for the tagging it on business…. I tag Jason @ Off The TBR, Pei @ Pei Reads, and Beth @ Before We Go Blog!